Can exercise help reduce the risk of being hospitalized during chemotherapy treatment?!
A recent study shows promising results that this just may be the case!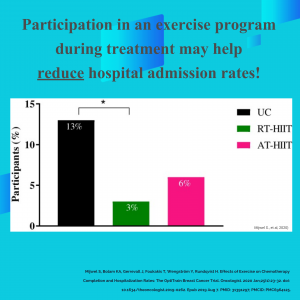 A group of breast cancer patients who were undergoing chemotherapy treatment were randomized to 1 of three groups:
Usual care group (no exercise)
Aerobic training high intensity interval training (HIIT)
Resistance training HIIT
Exercise programming was 16 weeks long and consisted of 60-minute sessions twice a week. These sessions were supervised within an exercise clinic.
Results supported a DECREASED rate in hospital admissions in those who participated in an exercise program vs those who did not.
Reference: https://pubmed.ncbi.nlm.nih.gov/31391297/
#exerciseismedicine #exerciseoncology #movementismedicine #exercise #cancerexercise #fightthefatigue #fightthefatiguefitness #cancersupport #cancersucks #fucancer #movemoresitless #dontsitgetfit