I hate to say it.. so I am going to write it!
Working in the oncology outpatient setting can almost seem like you are working in a factory. People being directed in and out, completing assessments, relaying instructions, getting treatment, moving on to the next, one in, one out…
We know this order is needed to be structured and efficient; however it can take away some of that personal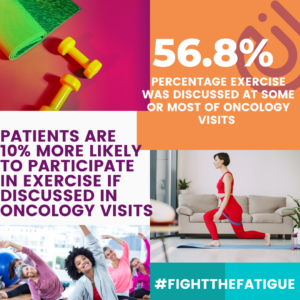 connection if one falls victim to the process, the numbers and is not mindful of the 𝙥𝙪𝙧𝙥𝙤𝙨𝙚. The purpose being to provide the best possible holistic care to patients so that they are able to 𝐟𝐮𝐥𝐟𝐢𝐥𝐥 𝐭𝐡𝐞𝐢𝐫 𝐨𝐰𝐧 𝐩𝐮𝐫𝐩𝐨𝐬𝐞 𝐢𝐧 𝐥𝐢𝐟𝐞 𝐚𝐧𝐝 𝐡𝐚𝐯𝐞 𝐚𝐧 𝐢𝐦𝐩𝐫𝐨𝐯𝐞𝐝 𝐬𝐞𝐧𝐬𝐞 𝐨𝐟 𝐪𝐮𝐚𝐥𝐢𝐭𝐲 𝐨𝐟 𝐥𝐢𝐟𝐞.
There are endless concerns to address within a 15-30 minute window that sometimes meaningful conversations are missed or rushed. Some common conversations that are missed are related to diet and exercise.
Making that personal connection to one another in order to have meaningful changes in healthy lifestyle habits takes a lot more than this one in, one out revolving door process.
Based on an ASCO (American Society of Clinical Oncology) survey, exercise was addressed "at most or some oncology visits" in 56.8% of respondents' care.
Unfortunately, it is unlikely to have an exercise or rehab professional within the oncology clinic to help fully discuss the importance of exercise and movement in regards to outcomes, overall functioning and quality of life.
IF we can increase the oncology care teams' likelihood of discussing the importance of exercise + refer to an exercise or rehab professional to facilitate that vital, meaningful conversation and provide the guidance to fuel behavior change could that = increased adherence to an exercise program? Which then could improve overall outcomes and quality of life?!
I think so.